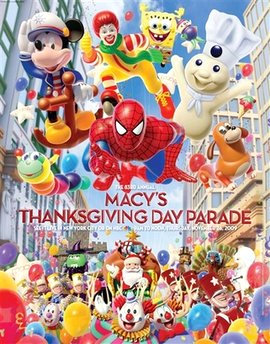 The parade begins at 77th Street & Central Park West at 9 a.m. on Thursday November 26th. After turning east on Central park South, the fun will not take it's usual coarse down Broadway. For the first time in 82 years the parade will move down 7th Avenue making it's way to Herald Square.

Die hard attendees camp out in the Herald Square area for the official viewing are (where the performances take place) and onlookers start filling in everywhere else at the crack of dawn.

Want a peek at the balloons before parade time? Head to 77th and 81st streets between Central Park West and Columbus Avenue from 3 pm to 10 pm on Wednesday November 25th. I for one can't wait to see the new Pillsbury Dough Boy balloon!!

For more parade info check out the official Macy's Thanksgiving Day Parade web site. You can also catch the parade on NBC.